RSB-Group in NIGERIA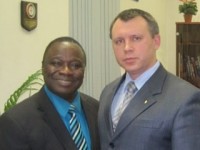 The main issues of the meeting were the possibility of providing security services to the Russian companies in Nigeria, a possibility of a joint patrolling of the Nigeria territorial waters with the country's coast guards and possibility of carrying out consultations to combat terrorism and drugs.
The military attache told: "American president defined our country on the fourth level of terrorism. But that is not so. I must admit, that independent militarized groups operate in jungles, and to tell you the truth, I know that there was a kidnapping of seven workers of the Russian company "Rusal", but, please, be informed that our President and the government combat this occurrence. We have a lack of experience to eradicate the evils. I highly appreciate the result of our meeting and I really hope that when Russian businessmen get to know that such a security company as "RSB-Group" operates in the country, they will make investments in the production of diamonds, oil, bauxite and the others". It was also mentioned that Nigeria is looking forward for the Russian business in the country.
One of the solved issues was a preliminary agreement concerning the protection of the oil ships by maritime department. In connection with this problem "RSB-Group" security team is going to fly to Nigeria for the implementation of the reconnaissance.
The company management of "RSB-Group" has appraised Nigeria as a country which has one of the perspective markets not only for the security providers, but also for a Russian business on the whole. But still, because of the closeness of some African countries, which are involved into the political and combat confrontations, Nigeria continues getting weapon and drugs. "RSB-Group" is now in the process of consulting international lawyers and the Nigeria embassy so that our work and stay in this African country was complied according to the international and internal rules and laws.
Reference
Nigeria is one of the biggest countries of the Tropical Africa, which is situated in the Gulf of Guinea. After the 14 years of the military regime, in the 1999 the civilian rule was restored, new Constitution came into effect, and the power was given to the democratically chosen president. Nigeria is rich in different mineral resources; among them are oil and gas. The country appears to be in the top ten of the greatest oil exporters.