RSB-Group in USA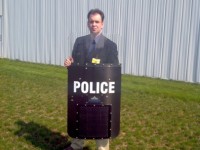 In March 2012 Russian PMS "RSB-Group" has signed an exclusive dealer agreement with a large corporation ULTRA ELECTRONICS USSI for an exclusive supplying and realization of special acoustic hailing devices of non-lethal action HyperSpike; according to the agreement we can for a dealer network all over former USSR countries and in Sri Lanka. Company ULTRA ELECTRONICS USSI stands as a largest producer of special equipment supplying the goods to the Ministry of Defense of USA, USA coastal guard's offices, SWAT special task forces, customs and boarder control offices of USA and Royal fleet of Great Britain, and also to the French army.
Special acoustic hailing devices HyperSpike produce the sound more than 158 dB. The sound is intended to influence on violators and criminals, who entered the acoustic beam. The hearing distance of the sound can be over 2 000 meters. The usage of these acoustic hailing devices provides the specialist not to use force and compels the delinquents to leave the controlled area. There also is an additional usage of a human voice, warning sounds, emergency sounds or recorded command sounds. HyperSpike was recorded in The Guinness Book of Records as the strongest sound equipment in the world.
On the 5th of April 2012 Russian PMC "RSB-Group" has signed a first sub-dealer agreement with a company GLAMAX CORP.
The analytics of the PMC "RSB-Group" evaluate the Central Asia market as the most intensive developing and they think that such equipment would be the most needed by the security, defense and law enforcement agencies, and also by the oil, gas and energetic sectors. We have made a planned the entrance to the Central Asia market and we invite serious companies which work in the sphere of security services, which supply similar systems to Kazakhstan, Uzbekistan, Kyrgyz republic and Tajikistan.
PMC "RSB-Group" is opened to any forms of cooperation.