RSB-Group base in Sri Lanka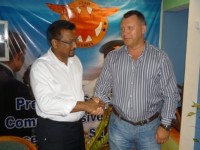 The formation of the "RSB-Group" base in Sri Lanka is already finished. The base "Mount Lavinia" can provide the stay of about 30 people at the same time. The meetings in the Ministry of Defense were also held in the country.
As a result – we have signed the agreements and licenses for storing weapon and the permits for "RSB-Group" co-workers to access the neutral waters to escort the vessels, which are on the way to the Suez Canal. We have also got permission from the customs and border services to use the port Galle and Colombo. "RSB-Group" chief executive officer Oleg Krinitsyn has signed the corresponding agreements. According to the agreement with "RSB-Group" can act as an agent in the decision of the issues of the other private military companies concerning the storing of the weapon, and, in addition, stationing of the contractors on the territory of the "Mount Lavinia" base. "RSB-Group" can organize the delivery of the contractors to the vessel.
A representative of Sri Lanka in UNO – major Rajapaksa highly appreciated the company's approach to operate in the Indian Ocean in the sphere of providing protection of the merchant vessels from the pirates' attacks and expressed the desire to help us in any issue concerning the maritime subject matter in the region. In the meantime we are working on the endorsement and getting the UNO warrant for "RSB-Group".