Sangtuda 1 hydroelectric power plant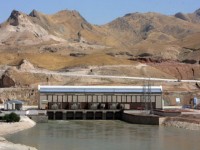 According to the inquiry of one of the biggest energy holding companies in Russia – Inter RAO, RSB-Group specialists carried out antiterrorist security audit of the object which is situated in one of the countries in the Central Asia.
According to the audit result, there were made recommendations which helped the owner to see the organizational problems in the field of the protection of the object and to develop the further improvement plan of the complex security.
The main issues of during the antiterrorist security audit were:
Peculiarities of the geographical position of the object and the relief, which did not allow carrying out the zoning in full;
Peculiarities of the local mentality, which do not allow using some of the measures to ensure the antiterrorist protection in advance, which need a gradual introduction that will "zero out" social tension around the object;
Unavailability of the company management to increase the financing of the technical, engineering, and organizational and staff measures sharply and necessity of development the target programs to finance the antiterrorist protection activities.